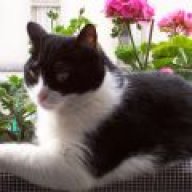 Joined:

Mar 10, 2011
Messages:

331
Trophy Points:
Positive ratings received:

753
Post Ratings
| | Received: | Given: |
| --- | --- | --- |
| | 752 | 683 |
| | 0 | 10 |
| | 0 | 0 |
| | 0 | 0 |
| | 0 | 0 |
| | 1 | 0 |
| | 0 | 0 |
| | 0 | 0 |
| | 1 | 0 |
| | 0 | 0 |
Gender:

Female

Birthday:

July 13

Location:

Occupation:

Legal translator specializing in contract law,befo
Loading...

Loading...

About

Gender:

Female

Birthday:

July 13

Location:

Occupation:

Legal translator specializing in contract law,befo

Facebook user ID:

ClaudineCHL

i grew up in NYC,went to post grad university in UK and now living in Paris.I stopped smoking my 30+ red MLB's a day on the very day i joined this forum!as soon as I tried my first ecig i never went back, with NO effort... i wasnt even really TRYING to quit!

started off with the disposable 9.99 type ecigs then invested in a JANTY dura auto,moved on to an EGO auto then Manual,then a tank and now am real happy with my new NEO auto airflow & classic..

Ok i read alot more than i write in this forum!NOW 3.5 years after quitting/my first vape ive moved on to a ZMAX V5 telescopic, love it, been using EVODS, AREOTANK (kanger) and Nautilus.Also use, VV Vision spinners and ego twist VV+ Smoketech's 1300 Mah VV batteries for outdoors.Now moved on to alternating 2 Sigelei Zmax V5's (at the same time) which I usually use with Mini Nautilus' or sometimes a Mini Aerotank.I even still occasionally use my good old Evods with some of my fruit liquids.

I Love Quack's Gizzard & Goose juices, love Highbrow ,theyre my main eliquid suppliers right now, though Im always glad to try out new stuff when I run into something that looks appealing

AS far as Nic goes, as a heavy smoker I obviously started off with the strongest I could find locally, 24 and 18mg but after a few months my nic needs just seemed to drop on their own...so moved down to 16 then 12 .... then 6....without feeling any side effects at all & without any real conscious EFFORT... am now at EXTRA LOW (3) and even ZERO!BUT I enjoy vaping for VAPING, not just to "quit" cigs or to reduce nicotine intake,even though that's a clear bonus..... so...even if I go down to zero nic permanently I have NO PLANS TO EVER STOP VAPING

!!!!!

2015 UPDATE :

Now mostly using Mini nautilus(1.6 ohm) and/or mini aerotank (stealth situations) with 20 wtt Eleaf Isticks, IPV mini or my "old" Zmax Mini V5.Just started on the Atlantis and now moved on to the Kanger Sub ohm regular - just bougth the Nano this week(waitin' for the mail!) .

Upgraded my Isticks to the 30wt and now 50W version....as soon as they came out...Lately Ive been really enjoying Suicide bunny eliquids,still using Quacks' Gizzard & Goose on a daily basis but have been a bit disappointed with my latest Highbrow orders so havent been using them lately .Am enjoying Beantown Vapor's PEARANA this summer.Being using 5Pawns Black Flag Coffee flavour as my new espresso-morning-wake up.I like trying any new premium ejuices i stumble on

and especially High VG liquids.

NEW FAVE STUFF (july 2015 UPDATE) :

Madrina (Suicide Bunny) my ADV for a while now.... still LUV THE OB..SKY & ARISE & BILLOW (The Cloud Co.),Most of the Kings Crown range too!I seem to really enjoy almost ANYTHING Suicide Bunny or their related companies put out.... still using Quack's Gizzard & Goose juices, very occasionally some five Pawns Castle Long or Gambit, & one or two others...am always trying out some new flavour by some new company or another..I like to actually buy a bottle-or better yet a 1 or 2 ML sample and try it quietly at home over afew days in my own equipment coz a quick vape in the B&M is often misleading IMO.

....and am STILL looking for that perfect coffee breakfast-vape , for the moment have been mixing Black Flag (Five Pawns) and Crucible...not quite" IT" though...

so .....

if ANYONE can suggest a (high end) very "coffee-STRONG" but creamy Cappuccino type i'd really appreciate any suggestions !

As far as hardware goes just bought a Provari P3 Titanium as a bday Prez 4 myself in July and usually use a whole bunch of ISTICK's 30W (for outside-more discreet!) & 50 W at home.Picked up a Sigelei 30WMini box that Im quite happy with too....Still occasionally use one of my 5 Sigelei Zmax V5's

Have gone back to my Mini Nautilus' (With 1.6ohm coils) so have two of those going at all times but also keep a Subtank Nano and a mini aerotank going at home (so usually have about 4/5 mods going at a time with dif flavors).I LUV trying new Gourmet eliquids, usually sweet dessert types or NATURAL fruit tastes

I Like documentaries in general, anything on the supernatural ,Euro soccer,true crime legal cases....

current adv's Oct 2015 : Beantown vapor's Pearana, Charlie noble's Poseidon and Quack's Gizzard juice, plus my own personnal coffee mix made with Five pawn's Black flag+ epic Juice's wake' n vape and a touch of vanilla custard (I alternate depending on what I have) ..... basically still looking for a morning coffee-cap vape

UPDATE NOV 2015 :

Have fallen in LUV with the Kabuki +Provari P3 combo and am now using mainly that at home.On the run I take my Isticks (30/50W)+ mini nautilus....

Interact

Loading...