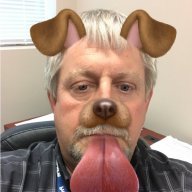 Post Ratings
| | Received: | Given: |
| --- | --- | --- |
| | 102 | 127 |
| | 1 | 2 |
| | 0 | 0 |
| | 0 | 2 |
| | 0 | 0 |
| | 2 | 0 |
| | 3 | 0 |
| | 3 | 0 |
| | 0 | 0 |
| | 0 | 0 |
Gender:

Male

Location:

Occupation:

Program Manager
Mark Spivey
Senior Member, Male, from Knoxville, TN
ECF Veteran
No matter where you go, there you are. Nov 1, 2017
Mark Spivey was last seen:

[On Tapatalk]Engaged in conversation, Apr 25, 2018 at 5:06 AM
Loading...

Loading...

About

Gender:

Male

Location:

Occupation:

Program Manager

I'm officially over the hill but my brain still thinks I'm in my late 30's (that's why I still love zip lining, roller coasters, jet skiing, etc.). I'm quirky, goofy, obsessive, fun loving, detail oriented, sarcastic, strange, giving, and twisted. I'm a follower of The Way (a lot of people call it Christian but I prefer to call it something different due to the bad reputation some have given that name) and I do LOTS of volunteering for my church. I quit analogs on Black Friday (November 28) 2014 and haven't smoked, chewed, or dipped anything with tobacco since. I'm married for the second time (first one could only put up with me for 16 years and my current one has put up with me for over 13 years and counting), I have two biological children (29 & 27), and two stepchildren (23 & 20).




Notable Milestones

Started Vaping with an Innokin iTaste CLK! starter kit November 2014.

Began using a Aspire Nautilus Mini and 30W Mod (iPV Mini) January 2015 (BD present).

First RTA (Fogger V6) and single 18650 Mod (iPV Mini) February 2015.

First Hybrid Mechanical Mod (Dovpo GX-200) February 2015.

First RDA (Youde (UD) IGO-W3) March 2015.

Began Sub-Ohm Vaping March 2015.

Began DIY e-liquid April 2015.

First TC Mod (Pioneer4you iPV 4) and Ni200 build May 2015.

First Sub-Ohm Tank (Aspire Atlantis) June 2015.

First 200 Watt Mod (Pioneer4you iPV 3 Li after firmware upgrade) July 2015.

First build with Titanium wire November 2015.

First "high end" Mod (Wismec Reuleaux DNA200) January 2016 (BD present).

First Mechanical Mod February 2016.

First Clapton Coil build March 2016.

First Atty greater than 22 mm April 2016.

First You Tube Video Review May 2016.

First build below 0.2 Ohms at a high wattage (0.11 Ohms dual SS Clapton in a Temple RDA vaped at 150 Watts) August 2016

First Squonker (Kanger DRIPBOX 160) November 2016 (2 Year Vapaversary).

First LiPo Mod (VOLCANO LAVABOX Blood Red SE DNA 200) as Christmas/Birthday present to myself December/January 2016.

Mixing by weight and got an Ultrasonic Cleaner February 2017.

Building my own Custom Wood DNA 250 Mod, X2 (Stabilized Afzelia Burl & Stabilized Elm Burl, Afzelia design started March 2017, woodworking began May 2017).

Building my own Custom Wood PWM Mod (Stabilized Buckeye Burl, Design started October 2017).

Building my own dual MOSFET high current LiPo Mod (named Phoenix, black Laser etched Hammond, operation selectable: 555 PWM & Unregulated; build currently in process, Started October 2017).

Building my own intelligent PWM (silent, Big Al's) LiPo Mod (named iPulse, brushed aluminum Laser etched, currently acquiring parts, Started October 2017).

What's Next???

Interact

Signature

Loading...

Loading...